Book a Space
The library has two rooms that can be reserved for studying, meetings or other work. In addition, the game room connected to the storage can be used for one hour at a time, if the space is free.
The group study room is suitable for studying, meetings, hobby activities and group work. The space can accommodate 10 people.
The soundproof working space is designed for 3-4 people. There are also sockets for chargers or laptops at the end of the table. Holding a remote meeting or doing homework can be done without interruption.
You can make a reservation for 2 hours / person / day. The reservation list is visible on the flextila.com service. In order to make a reservation, you must first register as a flextila.com user. After this, reservations can be made by logging into the service. You can also rent a remote workspace at the municipal hall with the same account. Use of the library's workspaces is free. For wider use, you should familiarize yourself with the remote workplace of the municipal hall.
The game room is available when staff is present and you can play Nintendo Wii U there. Max 4 pers. (Note! this space cannot be booked through the flextila.com)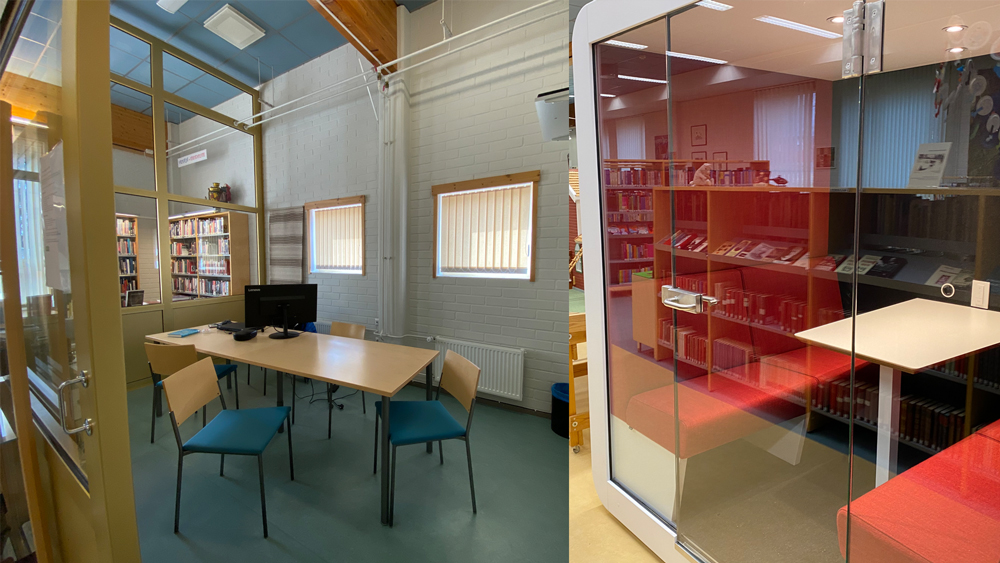 The group study room equipment
WLAN
Display for showing content
DVD-player
Soundproof room equipment
WLAN
User adjustable lighting and ventilation
Game room
Nintendo Wii U
42" display